This website contains tourist information about hiking and walking in Cinque Terre and in particular about the path between Monterosso and Vernazza, and the other Cinque Terre villages





... Monterosso and Vernazza !!!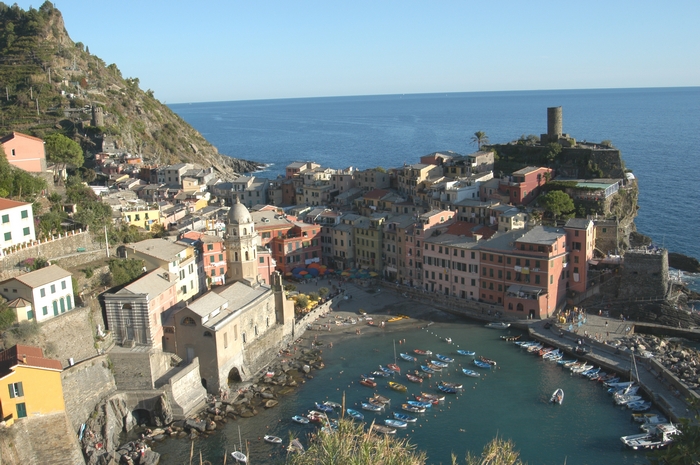 Home
Tour of Monterosso
Tour of Vernazza
Travel to Cinque Terre
FOOTPATH MONTEROSSO-VERNAZZA
Difficulty: medium
KM 3,5
1 hour and 30 minutes
Trail Mark: red stripe on a white stripe
The footpath Monterosso Vernazza leaves from the eastern part of the town of Monterosso, in the hamlet of Fegina. Going outside from the railway station go along the seafront to the left, cross the tunnel boarding the sea, pass by the small beach and reach the other part of it nearby a restaurant: here the pedestrian road leading to a hotel begins. In the surroundings of the hotel continue to the right going down through some steps. After a short walk on the plain, a staircase and another flat stretch you reach the checkpoint for the Park tickets, where you have to buy them if you are unsupplied. The price is Euro 3, 00. After that, the path begins with a long staircase crossing vineyards and citrus orchards. The rash walkers being able to finish the climb will enjoy a wonderful panorama over Monterosso.
The footpath continues flat, but in some parts it is very narrow and without protection on the side of sea. When you cross people coming from the opposite side of the road you have to search the right position to let them pass. It is absolutely not dangerous but you have to be a little bit careful, especially with children. Some parts are broad and peaceful, and you can always enjoy a wonderful panorama over the sea. The footpath passes on a small stone-bridge, which is really worth a picture. You can begin to see Vernazza in the distance, and the view of the coast is really unforgettable. To relax a little bit you can find also a wooden table rich in inscriptions with two benches in a very panoramic position. When the trail begins to go down, the view of Vernazza is really breathless. The path continues to go down among olive trees and cultivated fields until you reach the ticket checkpoint, then it enters into the town along the small lanes and ends between the small harbour on the right and the railway station on the left. In the last part you can decide to turn left among the houses and through a steep staircase you arrive nearby the Church of Santa Margherita di Antiochia.

---
This website is propriety of Hotel Clelia Logis International
Corso Italia 23, 19013 Deiva Marina (Sp)
P.I. 00289150112

If you like hiking...
Hiking Cinque Terre
Via dell'Amore
Hiking from Portovenere to Sestri Levante
Hiking Framura Deiva Marina Moneglia
Hiking Riviera di Levante
Hiking Portofino Camogli Monte di Portofino